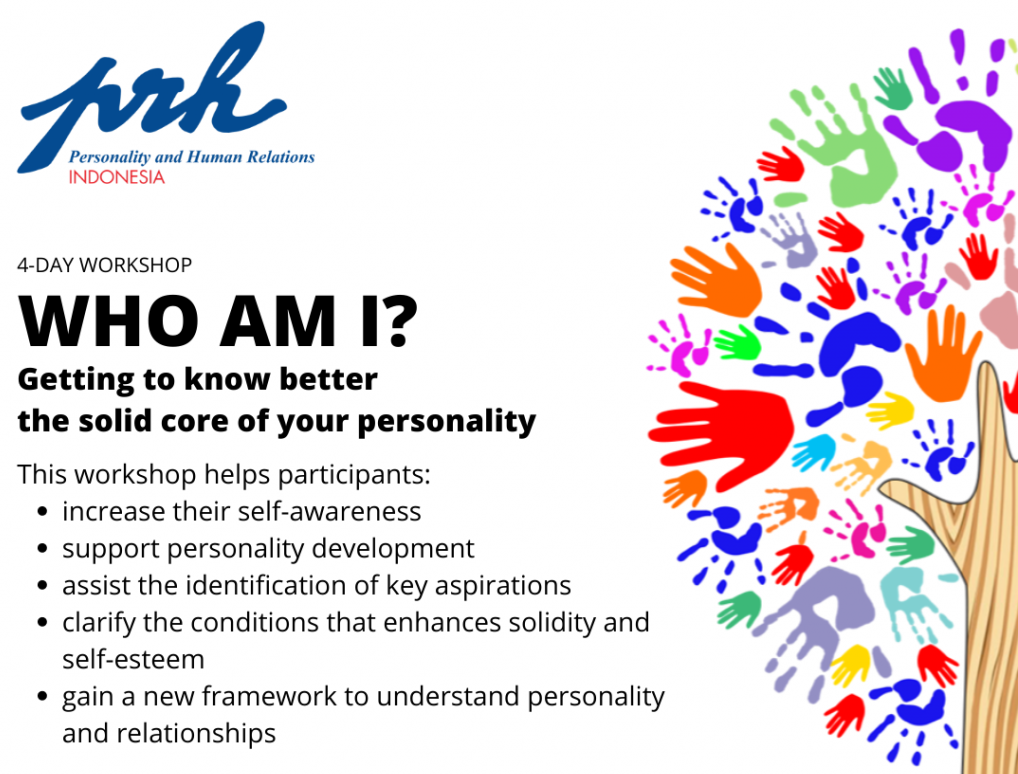 For more information in English Click HERE
See www.prh-Indonesia.org (intensive workshops) to check the schedule and book online for this or other PRH workshops.
Workshop PRH "Who Am I? Getting to know better the solid core of your personality" ('Siapa Saya' Mengenal dengan lebih baik inti yang kokoh dari kepribadian Anda).
Edukator: Theresia Citraningtyas
PRH (disingkat dari Bahasa Perancis Personalité et Relations Humaines – Personality and Human Relations) merupakan pendekatan humanistik yang memberikan pelatihan untuk semakin mengenal diri dan mengembangkan kepribadian secara eksperiensial. PRH sudah berdiri selama lebih dari 50 tahun manca negara.
Tujuan Acara:
Membantu peserta semakin mengenal dirinya
Mendukung proses pengembangan kepribadian peserta
Membantu peserta mengidentifikasi aspirasi yang terdalam
Memperjelas kondisi yang mendukung pengembangan kepribadian
Meningkatkan soliditas dan keyakinan diri dalam hidup peserta, diharapkan menciptakan individu yang lebih baik dalam menghadapi tantangan hidup dan pekerjaan
Workshop ini merupakan workshop PRH yang pertama dan paling utama yang memberikan dasar untuk pelatihan lanjutan analisa PRH, menolong orang lain, meningkatkan pertumbuhan, dan lainnya. Workshop ini mengupas gambaran diri, otonomi, sumbu-sumbu pribadi manusia, dan lainnya untuk membantu peserta semakin menjadi diri sendiri.
Workshop ini dilakukan secara eksperiential (mengalami secara langsung), dengan analisa dengan panduan, sharing, dan pengalaman yang memperkaya.
Untuk informasi lebih lanjut, lihat www.prh-Indonesia.org atau hubungi: prh@wicaksana.org